Clientele Hospital Plan
Please note, that from April 2017 the Clientele Life Hospital plan has changed its name to the Clientele H.E.L.P. plan. The plan itself hasn't changed that much, you can read more about it and get quotes here.
Clientele offers two *Health Insurance plans called Health Event Life Plans (H.E.L.P). These plans pay out when you are *hospitalised. Please note that these plans do not cover your medical expenses, but is rather a lump sum paid out for stays longer than a certain period.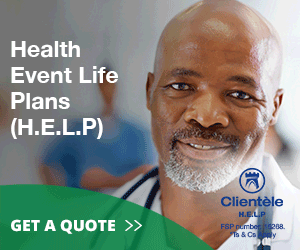 The two plans offered are called the Standard and Premium plans and the costs are R265 and R335 p/m respectively. Both of them have daily cash benefits if you are *hospitalised for more than 72 hours. You also get maternity benefits, accidental death/disability and dread disease cover. For more information about these plans, please request a call-back here.
We hope you enjoyed this article by Ron Hitge. Ron provides information to South Africans to help them get the best car insurance rates, without losing out on coverage. He loves to share his insurance knowledge and life experience online, and does his best to keep his blog up-to-date and relevant.
Please follow & like us :)